JCL Round Two: Sharks Edge MAX in Thriller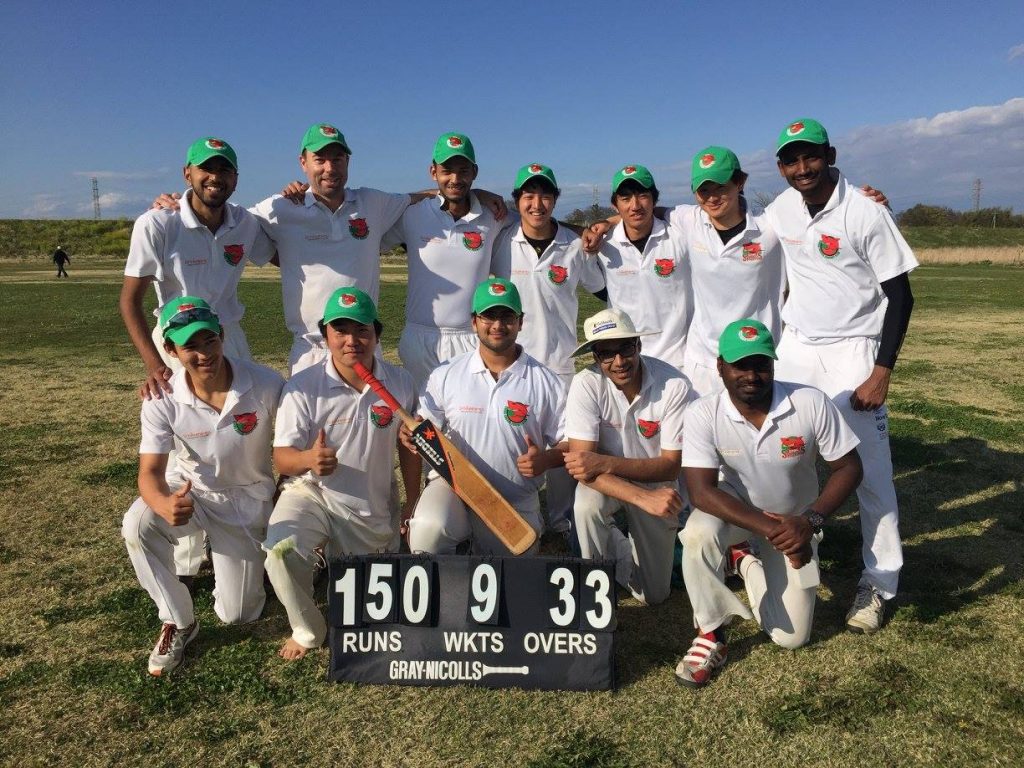 2017-04-25
One Short - Cricket Reports
ブログ
The Chiba Sharks edged reigning champions MAX CC in a low-scoring thriller in Sano and demonstrated their team spirit and will to win at the same time.
MAX, batting first, managed only 149 in 25 overs, despite looking set for a much bigger total. Key batsmen were dismissed at vital times, with Pavethy Velusamy (3/12) the man causing most trouble. Dismissing both Supun Nawarathna (45 from 34) and Hanif Khan (25 from 15) opened the door for the returning Tsuyoshi Takada to rip out the tail and finish with 3/20.
Despite an opening stand between Muneeb Siddique (17) and Dhugal Bedingfield (48) worth 62, the Sharks suddenly lost six wickets for just 31 runs to be in real trouble at 93/6. Velusamy (35*) held things together until Sharks required just two runs with three wickets.
When Chula Rodrigo dismissed two batsmen in successive deliveries and the number 11 is a 17-year-old on debut, MAX smelt victory, but Krishna Bhatia, a product of Sharks youth teams, punched Rodrigo through the covers for the most celebrated 2* in quite some time to secure a one wicket win.
Elsewhere Sano CC also made it two wins from two and stayed at the top of the table with a 39-run win over the Tigers; with both teams being grateful to extras for being top scorer in each innings.
Batting first Sano were reduced to 105 all out with Imtiaz Khan taking 5/13, but Tigers never got going in the chase and fell over for just 66, with Rashid Rana taking 3 wickets without conceding a run.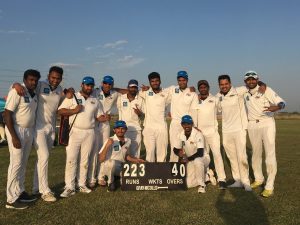 Alpha Quashers of Yokohama grabbed their first victory in Division One and posted the highest score of the round with an imposing 223 all out in exactly 40 overs against Paddy Foleys. AQCC need to be very grateful to Gurman Singh, sho smashed 91 from just 69 balls coming in at number eight.
In the chase Ashiq Hussain held the innings together with 63, but four wickets for just nine runs from Bakkiyaraj Ramiah knocked the stuffing out of Paddys as they crumpled to 142 all out giving AQCC a win by 81 runs. 
In the final match of the round, played a weekend later, Wyverns CC registered a crushing 105-run win over Tokyo Wombats. Batting first Wyverns racked up 208 all out with contributions from Raheel Kano (31) and Kazuyuki Ogawa (39) who's low order hitting really propelled to a meaningful target.
Wombats, who struggled with the bat in their previous outing against Sano, were again in trouble early as Shodai Yamada (3/19) removed three of their top four, including key man Alex Patmore for just 11. Although Richard Laidler (25) offered some resistance in the middle order, Kano grabbed 3/27 to polish off the tail and dismiss Wombats for just 103.