JCL Round 12: MAX Maintain Title Hopes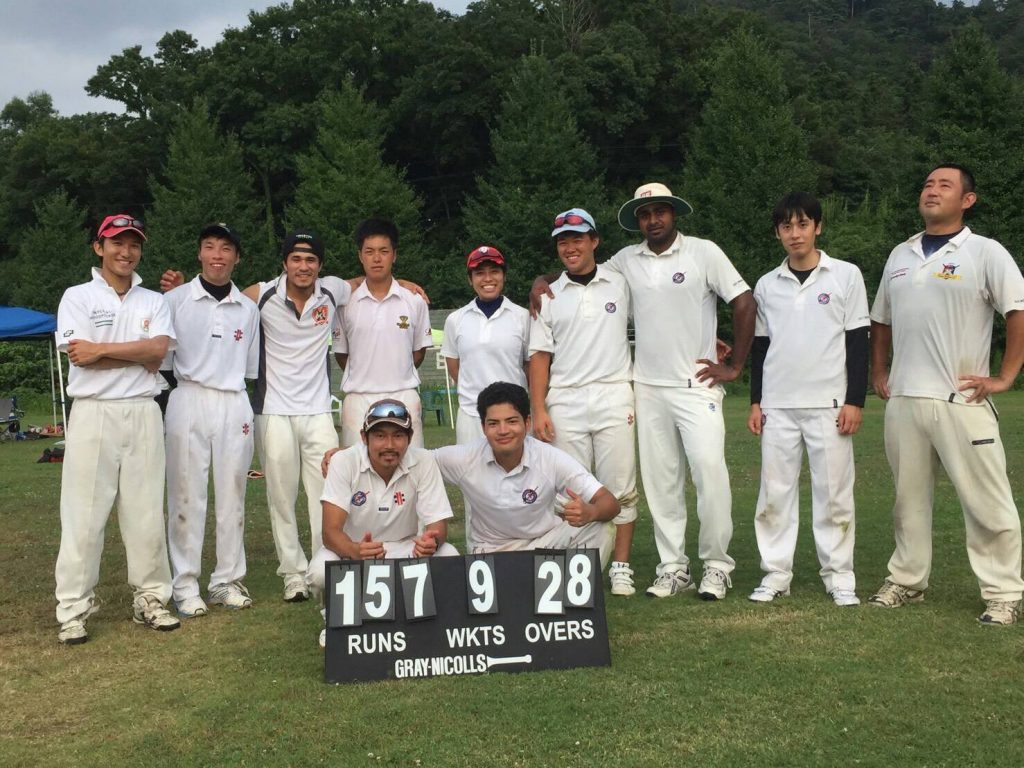 2016-08-19
One Short - Cricket Reports
Other news
ブログ
Defending JCL Champions MAX CC took a huge step towards securing their place in the title play-offs last weekend with a comfortable six-wicket win over Sano CC.
Sano won the toss and opted to bat, but were soon in trouble as Takuro Hagihara picked up his almost obligatory early wicket. Once the door was open the Sano players struggled to close it as wickets fell frequently throughout.
Six players made double figures but a top score of just 26 meant that despite batting out their 40 overs, they mustered just 151/9 with MAX captain Makoto Taniyama the pick of the bowlers with 2/19 from his eight overs.
Taniyama, newly promoted to open for Japan in T20 cricket, decided to have see if he could take that form into a JCA season that had yielded a top score of just four up until now. The tactic paid off and some rampaging hitting launched MAX towards their target, with Taniyama the first dismissed for 55 with only 60 runs to the team total.
That pace was maintained by Supun Nawarathna who recorded a half-century of his own (53*) as MAX chased the target in just 28.2 overs to leave Sano battling with The Tigers for that last play-off spot.
While Sano have matches against the two teams occupying the bottom of the division remaining, Tigers have played a game extra and then face dominant Chiba Sharks in their final match, so they needed a strong win over Paddy Foleys, which they duly delivered.
Winning the toss and batting, as most JCL teams seem to do, Tigers were indebted to Sabaorish Ravichandran who came in at number six and prompted hammered a century from just 69 balls which included six maximums.
His innings, plus a rapid 34* from Thoppil Udayaraj led Tigers to 233/8 from their 40 overs with only Fayyaz Khan escaping serious punishment to grab 3/39 fromm his eight overs.
The Paddy Foleys chase, much like their season, never really got started and although there was some feisty striking of the ball from the lower order, 146 all out from 21.2 overs tells its own story. Wickets were shared around with GV Prasanth grabbing 4/58 and Joe George a more economical 3/16.
A win by 93 runs for the Tigers, along with a valuable bonus point, means they will be watching closely in Round 13 hoping that Wyverns can give them a helping hand.
Certainly the chances of such a result are significantly higher after Wyverns caused the biggest shock of the season so far by turning over table topping Chiba Sharks by 47 runs at the Sano International Cricket Ground to keep their minute hopes of a top four place alive by a thread.
Wyverns, who predictably opted to bat first after winning the toss, posted 204/9 from their 40 overs in an innings that was built around a third half century of the season for Tomoki Ota.
Japan's vice captain sits third on the run scoring charts for the year and his composed 52 came just as the side was beginning to wobble at 68/3. After his dismissal there were bonus runs supplied by Satoshi Nakano, who struck 23* from 15 balls batting at nine, to lift the team above 200.
A confident Sharks set about the chase but were undone by a man intent of regaining his place in the Japan National Team. Raheel Kano ripped the heart out of the Sharks batting line up with his second five-wicket haul of the season, removing five of the top six on his way to figures of 5/28.
The key wicket was that of Dhugal Bedingfield (63) with a classic LBW dismissal that even the most one-eyed of Sharks fans could not argue with. This led to a swift collapse as the Sharks lost seven for 60 to end 157 all out from just 29 overs.
The result means Sharks retain a six point lead over Tokyo Wombats who they face next on August 27th and who will now have hopes of repeating their win earlier in the season and giving themselves a chance of finishing the league season on top.