JCL Round 7: Centuries and Controversies as Season Hits Halfway Mark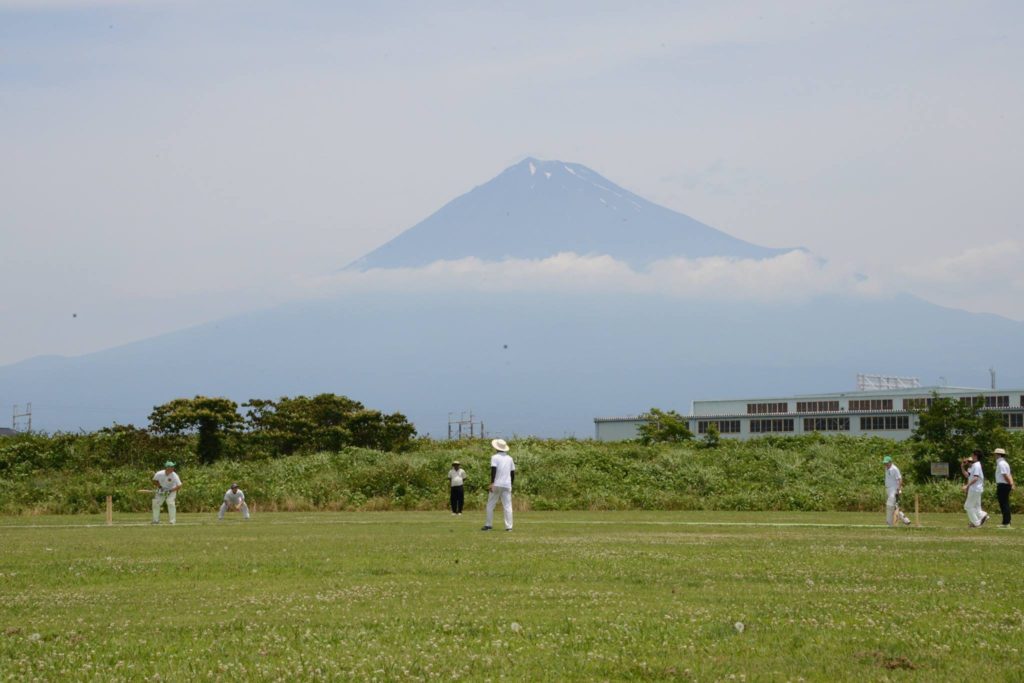 2016-06-20
One Short - Cricket Reports
ブログ
【関東(北)】
【関東(南)】
【関東(東)】
【関東(西)】
<佐野市>
<富士市>
Remarkably, as the league season hits the halfway mark, not a single day of the JCAL so far as suffered at the hands of the weather. Long may that continue – and let's hope this reporter has not just put a curse the coming matches.
Round Seven gave rise to plenty of stories, not least with a century being scored in all of the three matches, more than doubling the total scored this season so far.
The first of those hundreds came from Chiba Sharks Prashant Kale, who the previous week was dismissed on 99. He made amends this time around, flaying the Tigers bowling to all parts, largely in partnership with Paul Grant who himself helped himself to a second half century in as many weeks.
The Sharks posted an imposing 276/7 and despite a solid beginning from the Tigers in reply, Nozomi Tomizawa grabbed 4/38 to do most of the damage with Tsuyoshi Takada causing a few surprises as he returned to his former status as a quick bowler rather than off spinner and still pocketed 2/13.
The Tigers never really threatened, and were dismissed for 142 giving the Sharks the win by 134 runs, along with a bonus point, that would put them top of the table – at least until the Wombats took on MAX the following week, a suitable birthday gift for long-time Shark Chris Thurgate.
On the same day Cahathuta Aravinda became the latest to register a century, making the highest score of the season so far with 127 from 95 balls as Sano CC became the latest team to run over Paddy Foleys.
Sano were all out for 247 with Aravinda falling on the last ball of the innings and were quickly into the Paddy's top order.  Fresh from their displays in the Hong Kong Women's Premier League, Mai Yanagida and Shizuka Miyaji showed what they learned from Stuart MacGill by collected four of the first five wickets to fall (the other being a handled ball).
A defiant 50 from Uddika Pradeep was not enough to save Paddy's as Sano dismissed them for 162 to earn a victory by 85 runs, Piyush Kumbhare wrapping up the tail to finish with 4/10.
If a handled ball was not controversial enough, the real drama took place in Fuji where we had the repeat of last season's JCL Final as MAX took on Wombats. With a start time of 11am the Wombats were all ready to go, only for Max to be nowhere in sight. Confusion reigned and MAX eventually arrived and were ready to start at 11:30.
While some believed the late arrival should automatically warrant a forfeit, it was agreed that the game would be played and Max would be docked seven overs of their innings.
Batting first, Supun Nawarathna set about making sure the lost time would not matter as he hammered 104 from just 58 deliveries, clearing the ropes seven times. His only real support came from Makoto Taniyama (33 from 27 balls) as MAX did not even use their full 33 overs but still posted 221 all out, Yusri Mohideen collecting 4/45 for the Wombats.
Knowing top spot was on the line, Alex Patmore continued the form he has held all season with a patient 85 at the top of the order, but without sufficient support the Wombats came up short as Taniyama killed their momentum bowling 8 overs for just 12 runs and giving his side the victory by just eight runs.
The performances of Nawarathna and Taniyama could yet be for nothing however. There remains a pending steward's enquiry as the JCL Committee look into the possibility that a team arriving as late as MAX automatically forfeit. Drama indeed as such a move would move the Wombats from 3rd to 1st and put a huge dent in the hopes of MAX finishing top.
Division Two also returned this week and there were performances to note from Ishara Hasanta who hit 113* for Paddy Foley's 2ndXI who continue to fare considerably better than their 1st team and won by 54 runs over Wyverns 2nd XI.
Shizuka Miyaji starred for Sano 2nd XI  with 4/18 for Sano, but it was not enough to stop Tigers 2nd XI remaining top of the table with a win by 83 runs.
Although no scorecard is yet available, I hear that Chiba Sharks 2nd XI edged a thriller at Fuji by just two runs against Fuji Far East.
Keep up the good work everyone, and long may the sun keep shining.