JCL Semi Finals: Thrillers Set Up 2018 Final Repeat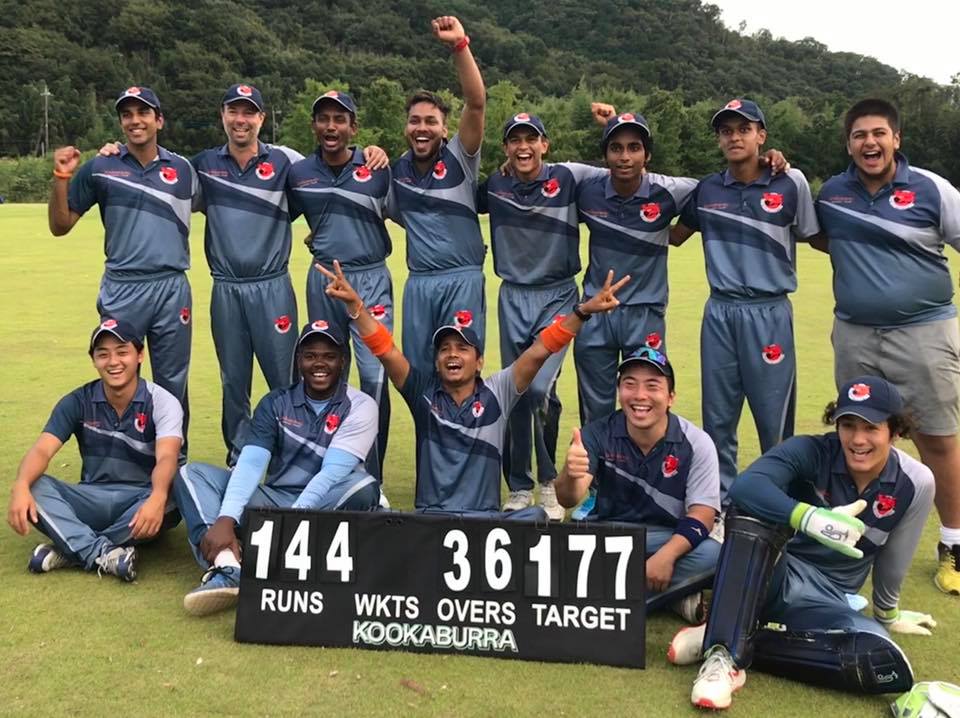 2019-09-18
One Short - Cricket Reports
ブログ
Fans at the SICG were treated to a couple of absolute classics as the Japan Cricket League approaches it's crescendo. 
MAX CC vs Alpha Quashers of Yokohama was the match up on Ground One and produced the kind of finish that Ben Stokes would have been proud of this summer. 
Table toppers MAX won the toss and chose to bowl, reaping instant rewards with their opening bowlers each dismissing an opening batsman in their initial spell. 
Takuro Hagihara (3/46) continues to roll back the years and is perfectly complemented by the young upstart Kazumasa Takahashi (2/26). 
None of the Quashers batsmen were able to get going and a total of 159 all out did not seem enough to challenge the powerful MAX batting line up, but that picture was to change very quickly. 
Gurman Singh, with his whippy outswingers, had MAX in all sorts of trouble as he first removed Amigo Kobayashi and then Ali Raza; two men having good seasons. 
At 38/4 MAX were in dire straits and looking for a local hero, but things went from bad to worse as Tushar Chaturvedi (3/24) came into the attack and removed the last of the big guns; Hanif Khan, Supun Navarathna and Kazumasa Takahashi all fell to the Japan U19 hopeful and at 77/7 the target of 160 looked so far away. 
Nobody told Thapa Biyjaya (47) however, who entered the fray thinking never say never and began to claw MAX back into the contest. His 53-run partnership with Talha Tanveer (28) brought MAX within sight, only for them both to fall in successive openers. 
That left numbers 10 and 11, Prabath Sankalpa (17*) and Takuro Hagihara to score 12 off the last over. Hagihara scurried the singles and Sankalpa scythed a boundary through point, but with five needed off the last two balls Quashers hearts were finally broken as Sankalpa smashed a six over long on to complete a single wicket victory and send MAX barmy on the boundary. 
Another final for MAX, another Semi Final defeat for AQCC. For all the unpredictability of the JCL, it seems some things remain reluctant to change. 
On SICG Two the Chiba Sharks and Tigers CC were intent on serving up a tense finish of their own and it was another Japan Under 19 player who came to the fore when his team needed him. 
Neel Date (48) and Dhugal Bedingfield (23) have something of the Master and Apprentice look about them as they walk out to bat, but it was the grizzled veteran who padded up to a straight one early after a watchful opening stand of 38 in 11 overs. 
Unfazed, Date continued to build partnerships, the best of which was for the fifth wicket with Tsuyoshi Takada (21) as they added 47. He was eventually run out two short of a deserved half century, but that career best in Division One bodes well for his, and the Sharks, future. 
A total of 176/8 looked competitive on a slow wicket with the Sharks bowling line up as strong as ever, and the Tigers were grateful to Piyush Khumbare (2/26) and Joe George (2/34) who took wickets at key times to prevent a full Shark attack. 
The Sharks were without Rui Matsumura, so Vivek Singh came in as his replacement. It was just his third game of the season, having gone wicketless in his previous two, but he made up for lost time immediately. 
His accuracy accounted for two of the top three to leave Tigers 28/3 but Sharks knew the real test would be to remove Sabaorish Ravichandran. The Tigers skipper, looking intent on making the runs all on his own, scored the majority in a 61-run partnership with Manoj Bhardwaj, who managed just six of his own. 
Batsmen continued to hang around as Ravichandran moved effortlessly passed 50, but his innings ended on a run-a-ball 68 when Singh intervened again as Debashish Sahoo held on to a cut shot that could otherwise have taken his head off. It would be one of three excellent catches in just seven overs for the sub fielder. 
Suddenly the Tigers were 127/7 with no set batsmen and still needing 50 more runs to make the Grand Final. The task proved beyond them as Vivek Singh rounded things off to finish with 4/18 and dismiss the Tigers for 143 completing a 33-run victory that was perhaps not as comfortable as the scorecard looked. 
So MAX vs Sharks will be the Grand Final for the second year running, MAX will be after their fourth title in five years, while Sharks are desperate to add to their solitary title, won back in 2010. Saturday October 5th is the date, book your tickets early.