JCL Round 11 – MAX, Sharks, Tigers, Quashers in Semi Finals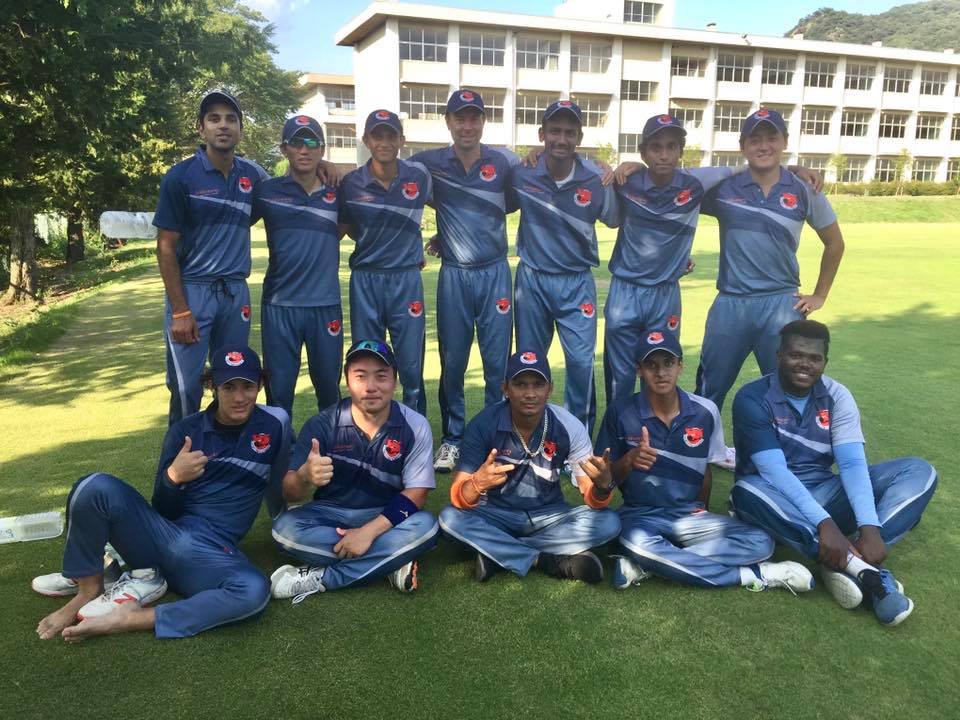 2019-09-09
One Short - Cricket Reports
ブログ
The final round of JCL Division One matches proved how competitive the league is with everyone scrapping for their lives. 
With matches spread over two weekends there were anxious moments for Chiba Sharks and Wyverns as it became clear that one of those would miss out on the top four. 
This was confirmed courtesy of comfortable wins for Alpha Quashers and Tigers CC on the first weekend. Wyverns were following the Quashers match against Tokyo Falcons closely and as Rahul Rajput compiled an excellent 60 at the top of the Falcons order it looked like the Quashers might have some problems. 
The Quashers bowlers kept things tight however, Karthik Vellingiri the pick with 2/25, as the Falcons ended on 189/7. The Falcons have failed to pass 200 at all since Round One, which goes a long way to explaining their struggles this season. 
The Falcons bowlers made a magical start, dismissing both Quashers opening batsmen for Golden Ducks before Rohit Kesari anchored the chase with his third half century of the season. Wickets tumbled around him, but his 79* guided the Quashers into the Semi Finals; winning the game with three wickets to spare inside 32 overs to claim a vital bonus point, meaning it was impossible for Wyverns to catch them. 
Tigers have also underwhelmed for much of this season but are finding a way to win matches at the crucial time. In their must win match against the Men in Blue they were indebted to two gutsy innings from Rahul Koul (44 off 72) and Manoj Bhardwaj (39 off 70) which prevented a collapse and enabled them to post 184/8. 
Sanket Pandhari (3/33) was the pick of the MIB bowlers and they knew that a win would give them a great chance to guarantee survival in Division One. 
Sabaorish Ravichandran remains the leading wicket-taker in the division however, and his leg-spin proved too much once more as his 3/19 accounted for half of the top six including the dangerous Sarfraz Petkar. Gurdeep Dua smashed 37 from 27 at the end to give MIB a glimpse of hope, but Tigers dismissed their opponents for 156 to win by 28 runs and book a place in the last four; leaving MIB to sweat on survival.  
That result did guarantee the safety of the Tokyo Wombats for another year while the Sharks and Wyverns both needed to win and hope the other lost to be sure of making the Semi Finals. 
The Sharks, up against a Wombats team who may have already slipped into hibernation for the winter after being assured of survival, registered their 5th score of the season in excess of 200. Skipper Dhugal Bedingfield led from the front with a run-a-ball 73, which took him top of the seasons averages, before Tsuyoshi Takada unleashed his inner beast by hammering 53 from 28 balls, a third half century of the season for him which propelled the Sharks to 277/7.
The Sharks bowlers set about the Wombats batting in merciless fashion. Off-spinner and Japan Under 19 maestro Yugandhar Retharekar pulling the strings with 3/15 while the other five Sharks bowlers all collected wickets in dismissing Wombats for just 80 to secure a huge win by 197 runs.
All of that meant that Wyverns could do nothing about their finishing position, but can take solace from ending the season on a high and being the only team to defeat MAX CC this year…and they did so twice. 
MAX lost five early wickets, Nozomi Tomizawa again being their nemesis as he rampaged in to collect a career best 4/21. However MAX held back Amigo Kobayashi and the former Japan captain gave his bowlers something to defend by cracking 65 from number seven. His was the last wicket to fall as he MAX made it to 173 all out, with nobody else passing the teens. 
In contrast Wyverns had five batsmen scoring between 22 and 33 as they made light work of the target, despite 3/26 from Vinay Iyer. Wataru Miyauchi laid the foundations and moved top of the run scoring table with his 33, while Raheel Kano finished the season with his best score, hitting two maximums as he led Wyverns to a six-wicket win. 
Wyverns will look back on missed bonus points and that defeat in Round Ten to the Sharks as key moments in a campaign that promised much but ultimately fell short. Like 3rd placed Tigers and 4th placed Quashers they finished with six wins and one no result, and even a better net run rate than the Quashers, but all this proved not to be enough in the final standings. 
Attention now turns to the Semi Finals as Quashers come up against MAX and Sharks will battle Tigers for a place in the Final. Meanwhile the two bottom teams of Division One will be left to watch the Division Two play-offs. Should both Rising Stars and Sano make the Final then both Falcons and MIB may yet be relegated back to Division Two. 
There is much still to be decided in the Japan Cricket League 2019.