Event Calendar

ICC Men's U19 Cricket World Cup East Asia Pacific Qualifier in Darwin, Australia
Venue: Darwin
06/12 @ 8:00 am

-

06/21 @ 5:00 pm
Event Navigation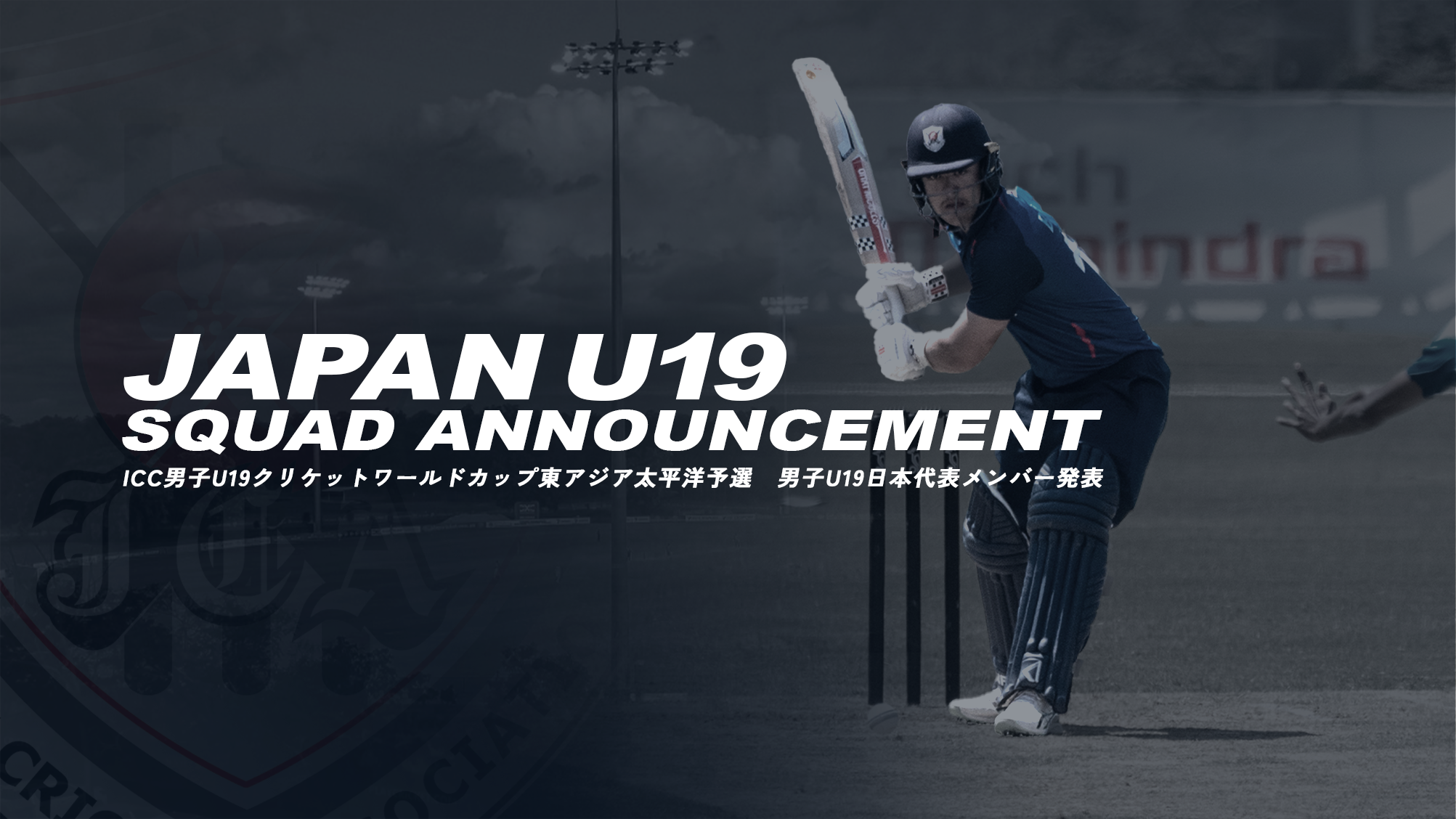 Ardene Ruhode, the Chair of the National Academy Squad Selection Committee has named a 14-strong team to participate in the ICC Men's U19 Cricket World Cup East Asia Pacific Qualifier in Darwin, Australia.
The tournament will take place between 12th and 21st June with Japan playing against Fiji, Indonesia, New Zealand, Papua New Guinea, Samoa and Vanuatu.
This will be the first time the Japan Men's Under 19 team has taken the field since the World Cup in South Africa in 2020, after missing out on the opportunity to defend their regional title in 2021 due to the COVID Pandemic.
Koji Hardgrave-Abe will captain the side, with Kazuma Kato-Stafford as vice-captain of a young side in which half of the players will remain eligible in two years time.
All players will be representing Japan officially for the first time, although the oldest player in the squad, Shotaro Hiratsuka, was a reserve for the team in 2019 and 2020.
The players were chosen after putting in strong performances in domestic cricket over the last 12 months, and impressing during the recent Futures League and Japan Premier League.
Coach Ruhode said: "The boys have worked hard and are excited to get out there now. It feels like they have had to wait a long time but the chance to play six good teams on great facilities will be a great experience and serve them well in the future. We are excited to show everyone what we have."
The full squad and fixtures are below:
SQUAD: 
Chihaya Arakawa (Sano Braves Cricket Club)
Koji Hardgrave-Abe (C) (Sano Cricket Club)
Shotaro Hiratsuka (Sano Braves Cricket Club)
Hirotake Kakinuma (Sano Braves Cricket Club)
Kazuma Kato-Stafford (VC) (Akishima Aviators Cricket Club)
Timothy Moore (Lions Cricket Club)
Daniel Panckhurst (Hong Kong Cricket Club)
Nihar Parmar (Alpha Quashers Yokohama Cricket Club)
Aditya Phadke (Alpha Quashers Yokohama Cricket Club)
Nikhil Pol (Tokyo Falcons Cricket Club)
Rithvik Sivakumar (Tokyo Falcons Cricket Club)
Aarav Tiwari (Kawasaki Knight Riders Cricket Club)
Kiefer Yamamoto-Lake (Willetton Cricket Club, Perth)
Max Yonekawa-Lynn (Chiba My-Ys Cricket Club)
FIXTURES:
12th June at 13:30: New Zealand vs Japan. Venue – DXC Arena 1
15th June at 09:30: Fiji vs Japan. Venue – DXC Arena 2
16th June at 09:30: Japan vs Vanuatu. Venue – DXC Arena 2
18th June at 09:30: Japan vs Samoa. Venue – DXC Arena 2
19th June at 13:30: PNG vs Japan. Venue – TIO Stadium
21st June at 10:30: Japan vs Indonesia. Venue – TIO Stadium