Event Calendar

2014 Pepsi ICC East Asia-Pacific Women's Trophy
Venue:
Event Navigation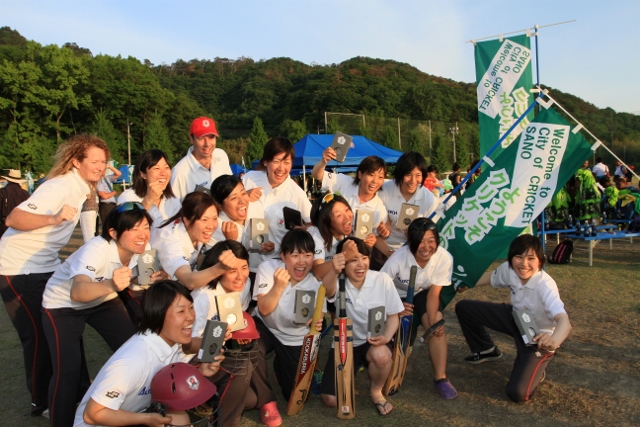 In May 2014 Japan hosted the Pepsi ICC East Asia-Pacific Women's Trophy which, alongside the hosts would include Cook Islands, Papua New Guinea, Samoa and Vanuatu.
Some friendly matches were also played during the tournament against the 'Cricket Without Borders' development side. All matches were Twenty20.
Japan, coached by Dhugal Bedingfield with Katrina Keenan as his assistant, excelled in the group stages, winning every game, only to fall short in a close final.
A full list of players selected can be seen by clicking here and the tournament homepage can be found by clicking here.
The summary of the results is below:
ICC EAP Trophy: 7th – 11th May 2014
7th May:
Samoa: 106/8 (20 Overs)
Japan: 108/5 (20 Overs)
8th May:
Japan: 148/6 (20 Overs)
Cook Islands: 80/6 (20 Overs)
8th May:
Japan: 142/1 (20 Overs)
Vanuatu: 120/4 (20 Overs)
10th May:
Japan: 108/7 (20 Overs)
Papua New Guinea: 105/6 (20 Overs)
11th May (Final):
Papua New Guinea: 113/3 (20 Overs)
Japan: 102/10 (18.3 Overs)
Papua New Guinea win by 11 runs
Friendlies vs Cricket Without Borders
5th May:
Japan: 135/5 (20 Overs)
Cricket Without Borders: 90/7 (20 Overs)
7th May:
Japan: 105/5 (20 Overs)
Cricket Without Borders: 81/6
10th May:
Cricket Without Borders: 81/7 (20 Overs)
Japan: 83/2 (15.5 Overs)