Event Calendar

Sports festival in Akishima (Cricket Blast Series Akishima)
Venue: Showa Athletic Park
2022/11/13 @ 10:00 am

-

12:00 pm

|

¥500
Let's Play Cricket!
This is a program for anyone and everyone.
Come and enjoy Cricket! You are guaranteed to have a great FUN!
Cricket Blast is our entry level program for kids in elementary school to learn about cricket. More information can be found at https://japancricketblast.com/en/.
The  Akishima Cricket Blast Series with collaboration with Tennis(Short Tennis), Rugby (Tag Rugby) and Cricket (Cricket Blast), we are have 3 sports organization running have a go games.
Series dates
6th, 13th, 20th, 27th November
Venue At
Haijima 2 Elementary school on 6th, 20th and 27th November *
Akishima Showa Park Athletic ground on 13th November
(196-0002 東京都昭島市拝島町3927−2 昭島市立拝島第二小学校)
(196-0033 東京都昭島市東町5丁目2−11−43 昭和公園陸上競技場)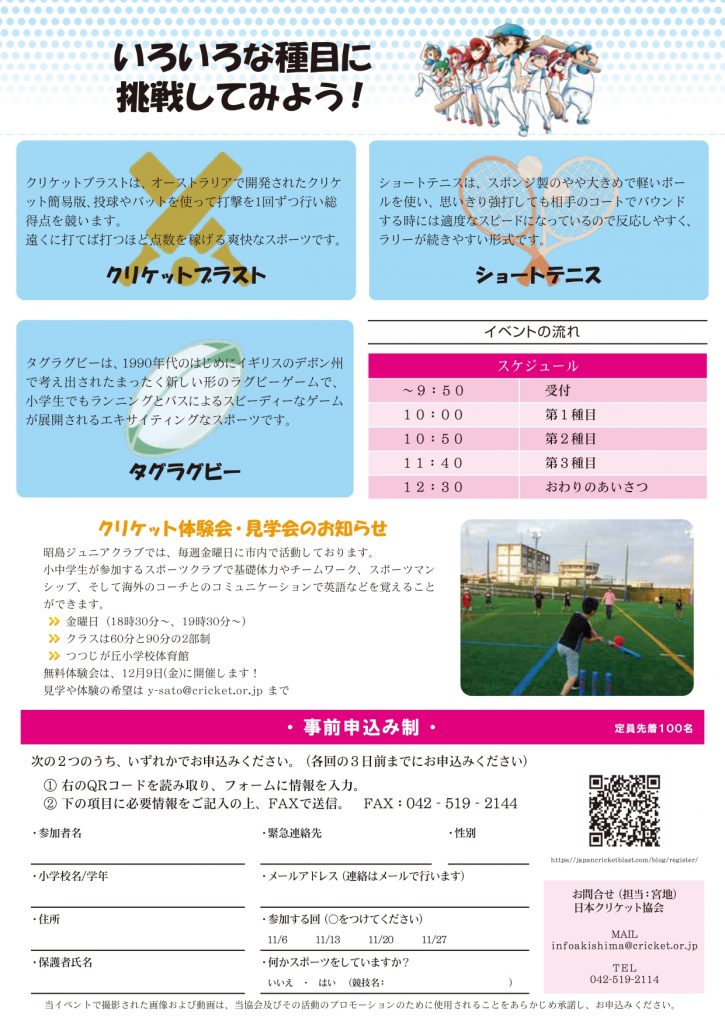 Entry fee : 500 yen for series registration
Notes:
・Please pre register through " https://japancricketblast.com/blog/register-en/ "
・Please take your temperature on the morning of any Cricket Blast event before deciding whether to attend.
・Must bring mask and wear when not participating in activity
・Please bring your own drinks and towels, but do not share
・ If feeling unwell please do not attend
・The will be a health check sheet (in Japanese) to fill out on arrival.
※We would work together with participants to provide a quality program under the situation of the region.