Queserser To Sponsor Japan Men's National Team
2018-03-16
Important news
Other news
News & Articles
National Team (Men)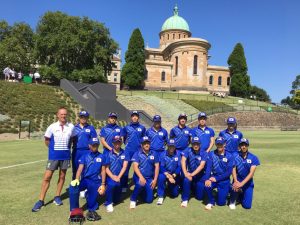 The Japan Cricket Association (JCA) and Queserser & Company have signed a three year sponsorship agreement for the Japan Men's National Team.
Queserser is a globally expanding design company with 10 offices across five countries. Upon entering this sponsorship, Kennosuke Kamada, CEO of Queserser, said "I believe that the combination of Sport and Design has great potential. I hope that this agreement will help develop Cricket in Japan and serve as a bridge to enhance communication with the world starting with India and Japan".
The Men's National Team will play in the ICC World T20 East Asia Qualifier in December in the Philippines and the East Asia Cup (location and date TBC) this year. The annual training squad will be selected after the trials which will be held in Sano on the 17th and 18th of March. The squad will hold camps and practice matches throughout the year with a team being selected for each tournament.
The sponsorship will play a significant part in helping the JCA's brave new five year strategy "Building a Brighter Future", which has just been revealed on Tuesday, to be a success. JCA CEO, Naoki Alex Miyaji, said, "the aim of the strategy is to raise awareness of the sport and to attract many new participants. The support from Queserser will accelerate us towards our goals. Queserser is a company that is challenging new frontiers and is always adapting as it grows. I hope that the partnership with them will inspire innovation in our sport as well."
Queserser's company ethos is "Hello Worlds!", aiming to provide value through creative designs which integrate various world views. For a design to create value and to evolve as a strategy, it is essential that it continually incorporates various cultural backgrounds. Queserser strives to increase the value of their work and provide a variety of options and points of difference to clients through its "One Country, One Branch" strategy. Queserser currently has offices in Osaka, Tokyo, Fukuoka, Nagoya, Kyoto, Fukushima, Singapore, India, Korea, and Belgium.