JCL Round 8: Wombats Reignite Title Challenge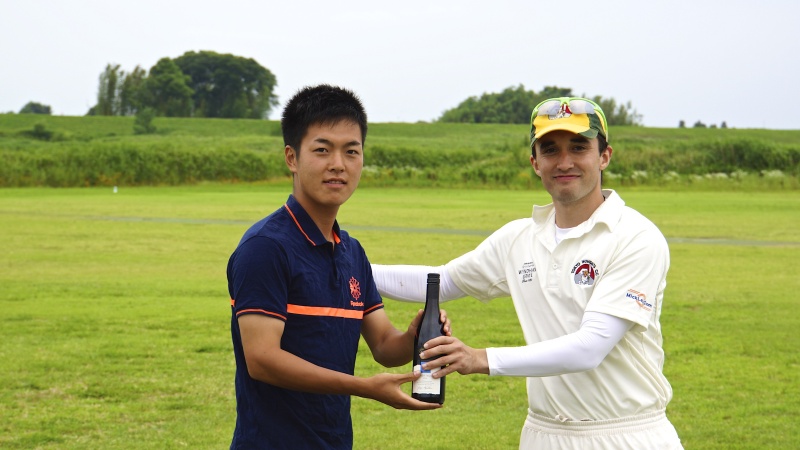 2016-06-25
One Short - Cricket Reports
Blog
A good week for Wombats was ended with a comfortable win over Wyverns, thanks to yet another half century for Alex Patmore.
Wombats entered the match in positive mood after the news in the week that their defeat against MAX the previous weekend would be reversed due to the MAX team all arriving 30 minutes late for the game at Fuji and as such the JCL Committee ruled the game should be called a forfeit.
Patmore and Rasika Ethulgala put on 103 for the second wicket as Wombats batted first, but their dismissals at the hands of Raheel Kano precipitated a rapid collapse; losing their last nine wickets for just 52 runs.
A score of 186 all out would require some good bowling to defend, which is just what they produced as Wyverns were dismissed for just 100 in a mere 22 overs to secure an 86-run win which also earned Wombats a bonus point.
For MAX the week started badly and ended worse, as they were easily rolled over by Chiba Sharks. Missing their usual captain Makoto Taniyama, who inexplicably chose to play for his university instead, the team came up short in all departments.
Vinay Iyer batted gainfully for his 44 at the top of the order, but received little support and a total of just 99 from 29.2 overs always looked short. Dave Lollback was the star with the ball, picking up 4/15 in a rare bowling performance from the former captain.
The Sharks had few issues knocking the runs off as Dhugal Beddingfield and Paul Grant, the new opening partnership that has revitalised the Sharks batting, put on 74 for the first wicket before Tsuyoshi Takada (19* from 13) finished the chase off with a flurry of boundaries. A win by seven wickets also earned them a bonus point which keeps them on top of the table, level with the Tokyo Wombats.
In the final tie of the round between Sano and Tigers Cricket Clubs, it was Sano who came out comfortably on top to move up to third in the table as they start to build momentum after a slow start to the season.
Raj Pardan gave the outstanding performance, smashing 87* from just 80 deliveries coming in at number seven, to lift his side to 223/9 in their 40 overs. He followed that up with 3/22 from seven immaculate overs.
Tigers captain Ragesh Nair fought hard in the chase, scoring 47, but it was not enough as his team rolled over for 156 in 35.1 overs handing Sano a win by 67 runs.
Round Nine takes place on June 25th and will feature a bye for MAX to give them time to recover from a bad week, while Sano take on the Sharks at Sano 3, Wombats face Paddy Foleys at Fuji and Tigers take on Wyverns at the Sano International Cricket Ground.