JCL Round Two: Teams Bounce Back to Prove Unpredictability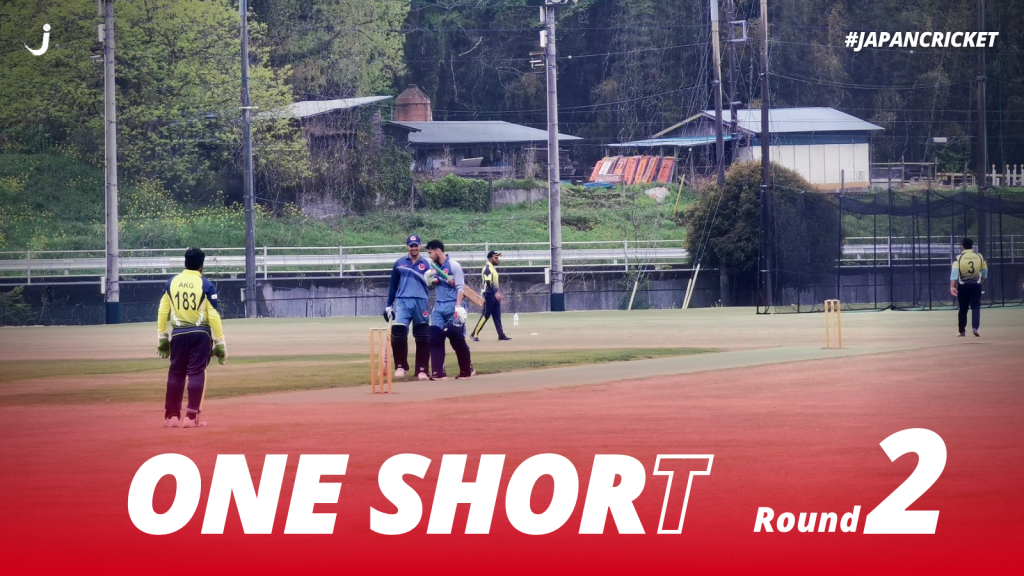 2021-04-28
One Short - Cricket Reports
Blog
"It was all wrapped up after Round One" they said! Oh how wrong they were as three of the five defeated teams in the first round of matches bounced back to record impressive wins in Round Two, with another coming mighty close. 
In the featured Match of the Round the Chiba Sharks showed that they are still a force with a crushing win over 2020 Runners Up Alpha Quashers Yokohama that was built on the all-round excellence of Ibrahim Takahashi. 
Batting first the Sharks looked on the hook at 134/6 as wickets tumbled to Gurman Singh (3/25) and Raman Tanwar (2/40), Tanmoy Mookherjee standing up with his 48, before Takahashi celebrated his call up to the Japan Men's Squad with a fine half century. He was 12* when the sixth wicket fell, and was last out for 57 having carried the Sharks to 206 all out. 
As if that wasn't enough, Takahashi then opened the bowling and delivered his allocated eight overs straight, taking 3/26 in the process. This was in partnership with the outstanding Rui Matsumura, whose swing the Quashers just could not handle. After nine overs the Sharks had five Quashers wickets for just 23 runs and the chase looked doomed. 
It was Singh who gave the contest some respectability with 71 from 64 deliveries, which did just enough to deny the Sharks a bonus point, before becoming one of three victims for the part-time off spin of Dhugal Bedingfield (3/22) as the captain wrapped up an impressive 59-run win for his team.
Another team often quick to be written off is the Tokyo Wombats, but with Alex Patmore aging like a Scottish Whisky it would be foolish to dismiss them as a threat this season. Against Men in Blue it looked like they could be up against it as 53 from Anurag Bharadwaj took the visitors to 98/1 after 18 overs, only for nine wickets to tumble for just 57 runs in the next 13.3 overs. 
Leading the charge, and the Division One wickets table, was Chelsea Moscript; her leggies bamboozling the Men in Blue to the tune of 4/17 in 7.3 overs as she worked in perfect tandem with Kavin Jinasena who collected 4/46 himself as he showed off his new athleticism. 
Then it came to Patmore, fresh off his hundred in Round One. The MIB bowling simply could not contain him and partner in crime Richie Bracefield. The pair put on 90 for the first wicket before the latter departed for 42, but Patmore steered his team home expertly to finish 69* to win with nine wickets to spare and earn a valuable bonus point to boot. 
The third team to bounce back was the Tokyo Falcons, although theirs was a slightly more routine performance against the Rising Stars. After five Falcons bowlers picked up wickets to dismiss the guys in green for just 156, Ankur Mehotra made 63 as the Falcons won by six wickets and also earned a bonus point. 
MAX CC and Tigers CC remain unbeaten, although MAX were made to work for it by Wyverns who could feel a little unlucky to lose after an impressive chase. 
Batting first MAX scored 275/8 in their 40 overs, Supun Nawarathna making a rapid 75, including five sixes, while Masaomi Kobayashi anchored the innings with a sublime 87 before holing out to long-on in the penultimate over. 
Wyverns chased hard with Raheel Kano (66), Masaki Kawashima (72*) and Wataru Miayuchi (45) all looking like they could get them home, but the task proved just beyond them in the end as they finished 262/5, an agonising 13 runs short. 
There were no such scares for the Tigers as Anuraj Singh played the knock of the round with an excellent 111* against Sano CC, ably supported by 48 from Anil Kumar, which took Tigers to 245/5. The Tigers bowlers then smothered Sano; Piyush Kumbhare returned to haunt his old club with 4/16 as they bowled Sano out for just 115 to win by a huge 130 runs, narrowly missing out on a bonus point due to some obdurate batting by the Sano lower order. 
Which brings us to the end of April and time to announce the very first One Short Player of the Month. Introduced for no reason other than we like to pump the tyres of those who do well, and although we have no actual award to hand over we are sure that a nice picture on social media will mean plenty to all recipients of this award across the season. It's not just JCL Division One we will be looking at, but matches across all competitions. 
So without further ado, take a bow Alex Patmore, who with one century and one half century in his first two outings, plus four catches and a stumping, is the One Short Player of the Month for April. Well played that man.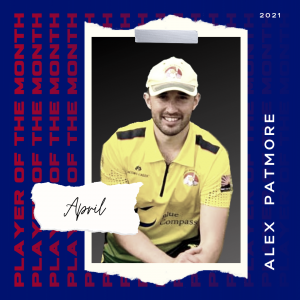 Once again thanks must go to the JCL Umpire Panel who stood in Round Two: 
Chiba Sharks vs Alpha Quashers:

Robert Newman & Shrikhanth Durairaj

Rising Stars vs Tokyo Falcons:

Chris Thurgate & Thulanidu Thirimanna

Sano CC vs Tigers CC:

Darshak Bhuptani & Prashant Kale

Men In Blue vs Tokyo Wombats:

Girish Deshpande & Shun Hashiba

Max CC vs Wyverns CC:

Kris Bayne & Darshak Bhuptani 
Finally, with the State of Emergency doing it's best to scupper our cricketing ambitions for the Golden Week break, we remain upbeat about Round Three and a full complement of fixtures being played, even if under a slightly adjusted schedule. We shall wait to see and will of course be here to report it when the droplets settle. Until then, stay safe and always wear a box.