JCL Grand Final: MAX Win Back-to-Back Titles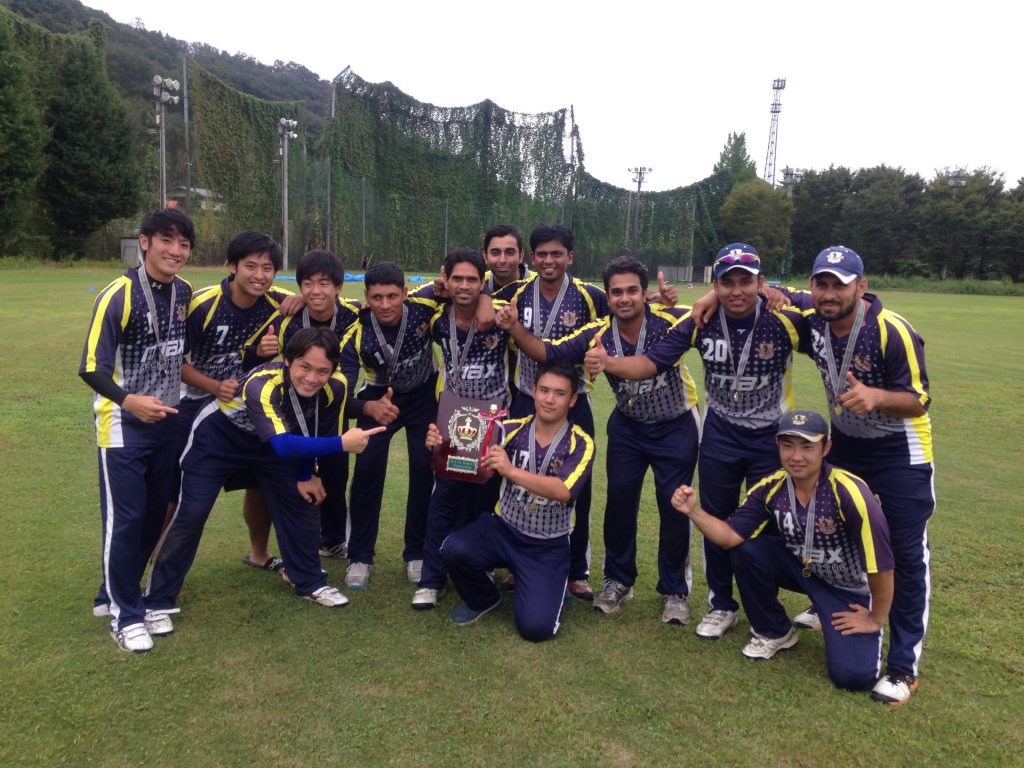 2016-10-03
One Short - Cricket Reports
MAX Cricket Club secured their second consecutive Japan Cricket League title at the Sano International Cricket Ground on Saturday, defeating the Tigers by six wickets.
Opting to field first after Captain Makoto Taniyama had won the toss, he could only watch on as Tigers made a solid start to the match as an opening stand of 51 looked like setting up a challenging total for the title holders to chase.
Kakeru Ebisui was the man who made the breakthrough, taking two wickets in successive deliveries to halt any momentum being built, before he stepped aside to allow the spin twins of Taniyama and Vinay Iyer to start the strangle.
Saborish Ravichandran (18) joined Imtiaz Khan (38) and mounted a recovery after the double strike, only for the momentum to be stopped again by a piece of brilliance by the MAX Captain. Bowling to dangerman Ravichandran, Taniyama took a stunning catch, diving to his left off his own bowling to open the door for his side, which was then kicked down in style.
Tigers lost their last eight wickets for just 27 runs, setting a target of just 105 for MAX to chase. Four MAX bowlers picked up two wickets each, with two run outs also contributing to the collapse.
The two spinners then opened the innings, and it was Iyer whose patient 31 gave a calmness to the run chase that was required, although his departure with the score on 54 left work still to do, and it was Japan National Captain Amigo Kobayashi who finished things off, hitting the winning runs in the 32nd over.
For MAX this is a creditable triumph. After losing their first two matches, and even as late as Round Nine looking like they might struggle to finish in the top four. Rounds 10 and 11 brought big wins over Wyverns and Tigers respectively, providing the momentum required to ultimately secure a 2nd place finish in the table behind Chiba Sharks before a virtuoso semi-final showing vanquished the Tokyo Wombats.
Congratulations to MAX, and also to Alex Patmore of the Wombats for finishing as leading run scorer for the season with an impressive 454 runs at an average of 50.44 including five half centuries. In the bowling charts it was spinners Prabath Sankalpa (Sano) and Raheel Kano (Wyverns) who each finish with 22 wickets for the season, which is even more impressive when you consider neither were involved in the end of season play offs.
In Division Two the Tigers also retained the title they won last year, defeating Paddy Foley's by five wickets on Sunday, Saoborish Ravichandran starring with ball (4/16) and bat (80) as Tigers made short work of the 145/9 made by Paddy's in their first innings.
Congratulations to both teams and well done to the Japan Cricket League Committee of Seiji Segura, Ragesh Nair and Takuya Kudo for their hard work this season.